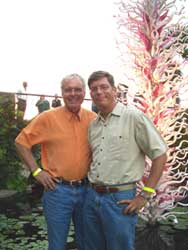 Thomas J. Votta '89 was dedicated to the environment. It was during his high school years that Tom's intellectual curiosity led him to develop his passion for environmental issues. He chose to attend the University of Vermont because he believed UVM was the best school available to him for furthering his interests in the environmental field.
Because he was from a large family of eleven children, his decision to attend UVM rather than a home-state university created a substantial financial burden for him, but he rose to the challenge and completed a degree in civil engineering with an environmental option, at a time when environmental engineering had not yet bloomed to maturity. After graduation, Tom went on to earn a master's degree in environmental management and policy at the University of North Carolina at Chapel Hill and earned national and even international respect as an environmental consultant known for his commitment to environmental policy and best practices.
After his death of leukemia in February, 2009, Tom's friends and family, including his lifetime partner, Charles Walker, decided to establish a graduate fellowship in Tom's name. The idea was first proposed to the university by one of Tom's professional colleagues, Jill Kaufman Johnson, who recruited Charles; Tom's college friend Paul Ligon '90; Jack Hills, family friend and fundraising consultant; Tom's brother, Dennis Votta; and his nephew, Geoff Votta. Together, they worked with the university to establish the Thomas J. Votta Fund for the Environment.
"Tom's close family, friends, and business associates were proud of his professional accomplishments and the good work he was doing" says Charles Walker. "His loss was made all the more devastating because of recognition that his promise for the future would be forever lost.
The establishment of a graduate assistance program seemed to be the most effective way to advance, in a general way, his work, and perpetuate his legacy."According to the language of the agreement establishing the fund, the Thomas J. Votta Fund for the Environment is to be used to establish an endowment "to provide annual graduate level scholarship assistance to students who, like Tom, wish to make a difference in solving environmental problems using Environmental Best Practices to meet this goal."
Those who receive the fellowship will be known as Thomas J. Votta Scholars. Should the endowment one day reach or exceed the$1 million mark, half of the endowment will support the original purposes, and half will support a Seminar Series in Environmental Best Practices. The Seminar Series will bring one or more scholars to campus each year to share their expertise in topics ranging across the environmental spectrum, with preference given to those leaders using best practices to solve environmental problems.