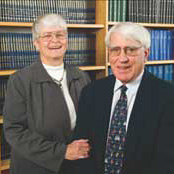 Dr. Robert and Shirley Johnson arrived in Vermont in 1971 when Robert accepted an appointment as assistant professor of orthopaedic surgery in the College of Medicine. Thirty-nine years later, as professor emeritus of orthopaedic surgery, he still teaches, treats patients, and carries out research in the McClure Musculoskeletal Research Center at UVM. Sports medicine has always been his passion, Robert says, since he began treating injured athletes as a young M.D.
Now, the Johnsons are honoring that life's work with a gift to support research in sports medicine in the Department of Orthopaedics and Rehabilitation. The vehicle for their philanthropy is called an irrevocable life insurance trust (ILIT) naming UVM one of the beneficiaries of a $1 million life insurance policy. "Sports medicine is a field I've committed my academic and professional career to," Robert says, "and this is a way to support the research I've been interested in after I'm gone." Currently, that research focuses primarily on ski injury epidemiology and prevention, he says, including risk factors in anterior cruciate ligament (ACL) injury and the development of arthritis after injury and reconstruction.
In addition to his work on campus, Dr. Johnson for decades has been one of a team of doctors who have tracked ski-related injuries through their clinic at Vermont's Sugarbush ski area. What they learn from treating skiing injuries is valuable to equipment manufacturers, among others interested in continually advancing the safety of the sport.
Early in Robert's career, before the couple had two children to raise, Shirley worked as an OB nursery nurse and taught at the University of Iowa and the University of Pennsylvania "so we could eat," Robert remembers, wryly. She later worked for years as an expert in wheelchairs and rehabilitation.
Robert and Shirley share a passion for birding and recently took a birding trip to Ecuador, where they trekked day and night to altitudes of more than 11,000 feet in search of rare and elusive species. In Vermont, Shirley is Chair of the Board of Directors of the Birds of Vermont Museum and was a long-time chair of the Green Mountain Audubon Society, where she still serves on the boards of both the local and statewide groups.
The couple structured their gift with the guidance of their financial advisor, Tony Hall, CLU, ChFC, of Hall Financial Services. He says the ILIT is a good option for many people considering a philanthropic gift. "Through the leverage of life insurance it makes it possible to make a major gift without compromising other assets in the estate," he says. "The Johnsons personify the Latin phrase non sibi, which means 'not for self.'"