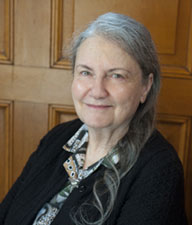 "I am a person who loves books," says Joy Fagan '66.
And not just any books. Her special passion is and always has been for those rare books, documents, manuscripts, photographs, and other materials of historical significance to researchers and anyone drawn to the idea of the past and what it can teach us today.
It was an interest first developed during her student years at UVM, when she became fascinated with Special Collections in the new Bailey Library. "It was very, very small, and it was very beautiful," she remembers. "One room, with a green rug."
She was drawn to that space and returned to it often, she says, because she liked the very idea that it represented - the fact that these were important documents that were cared for, preserved, and made available for later generations.
Joy has a particular interest in books and documents about the Holocaust, which claimed the lives of several family members on her father's side, and in the American Civil War. After graduating from UVM she began taking classes with eminent Holocaust Raul Hilberg scholar, who had joined the faculty in 1956 and published in 1961 what was to become a seminal work in the field of Holocaust Studies, The Destruction of the European Jews. Joy thinks she took every one of Hilberg's classes. "He became somewhat of a friend," she says.
Because of her long-held interest in Special Collections, Joy and her late husband, former College of Medicine Professor William Fagan, established the Dr. William T., Jr. and Joy Lipman Fagan Fund in 1992. The purpose of the fund is to support the acquisition and preservation of rare books, documents, and historical manuscripts, including those relating to the Holocaust, and to maintain Joy's personal papers.
Joy and William also made a generous provision in their estate plan that ensures Special Collections will have a substantial source of funding for acquisitions and maintenance of the collections in perpetuity. She's particularly excited, she says, that the planned relocation to a renovated Billings Library will provide Special Collections and the Carolyn and Leonard Miller Center for Holocaust Studies a new home appropriate to their importance to the campus and community.
"This really is about sharing a passion for rare and historical research materials and ensuring that future generations of scholars will continue to have access to them in Special Collections," says Jeffrey Marshall, director of research collections and university archivist. "We are honored and extremely grateful that Bill and Joy recognized the need and made the decision to support Special Collections."