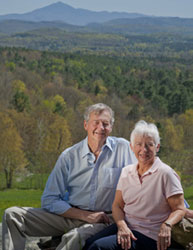 John and Donna Kunkel met and married in Minnesota in 1975 not knowing that a little place called Vermont would play a major role in their lives. "We had to go look on the map to see where it was," recalls Donna, an artist whose veterinarian husband was looking at a new career opportunity in the Green Mountain State.
It was the beginning of long and interesting adventure for the couple, stretching from Minnesota to Vermont to West Virginia to New Zealand and then back to Vermont, where John is now retired as Extension Associate Professor Emeritus. When they're not wintering in Arizona, John tends to their 135 acres of gardens, woodlands and wildlife habitat in Jericho, while in her studio Donna recreates the beauty she sees every day in watercolors, acrylic, inks and pastels.
John served the University of Vermont for 15 years in the roles of veterinary pathologist and Extension associate professor of animal science, providing real-world experience in the classroom and on the farm through his teaching of applied animal health and his research projects. As an Extension educator, he was among the first to recognize the importance and potential of rotational grazing for dairy and livestock enterprises in Vermont — discoveries he later brought to his faculty appointments at West Virginia University and Massey University in New Zealand.
His experience as an Extension faculty member left him keenly appreciative of UVM's land-grant tradition and the role of Extension education and services in Vermont and around the world. He is particularly aware of the currency of the work of Extension in supporting the University's transdisciplinary research initiative in food systems — one of the Spires of Excellence it has identified for a major commitment of resources and expertise in the coming years. "There's a real need there," he says. "We're going to have to feed a lot of people in this world."
John and Donna have expressed their commitment to that ideal by including the University of Vermont in their estate plans, providing for a generous bequest to support the work of the UVM Extension Service. "Everything I've done in my life has hinged on the opportunities that I had at the University of Vermont," says John.